Samsung Galaxy S20 Lineup to Limit 120Hz Support to Full HD
Samsung is planning to launch its first flagship phone of this year, which is the Galaxy S20. The Samsung Galaxy S20 series soon going to release on February 11, 2020. The S20 series will bring three new flagship phones in the market – Galaxy S20, Galaxy S20+, and Galaxy S20 Ultra.
Samsung is likely to launch the Galaxy S20 with support for a 120Hz refresh rate. But according to the latest twitter Post of IceUniverse – a popular tipster, Samsung Galaxy S20 will only allow certain resolutions to have access over the 120Hz mode. These available options in this mode would be FHD at 60Hz, QHD+ at 60Hz and FHD at 120Hz.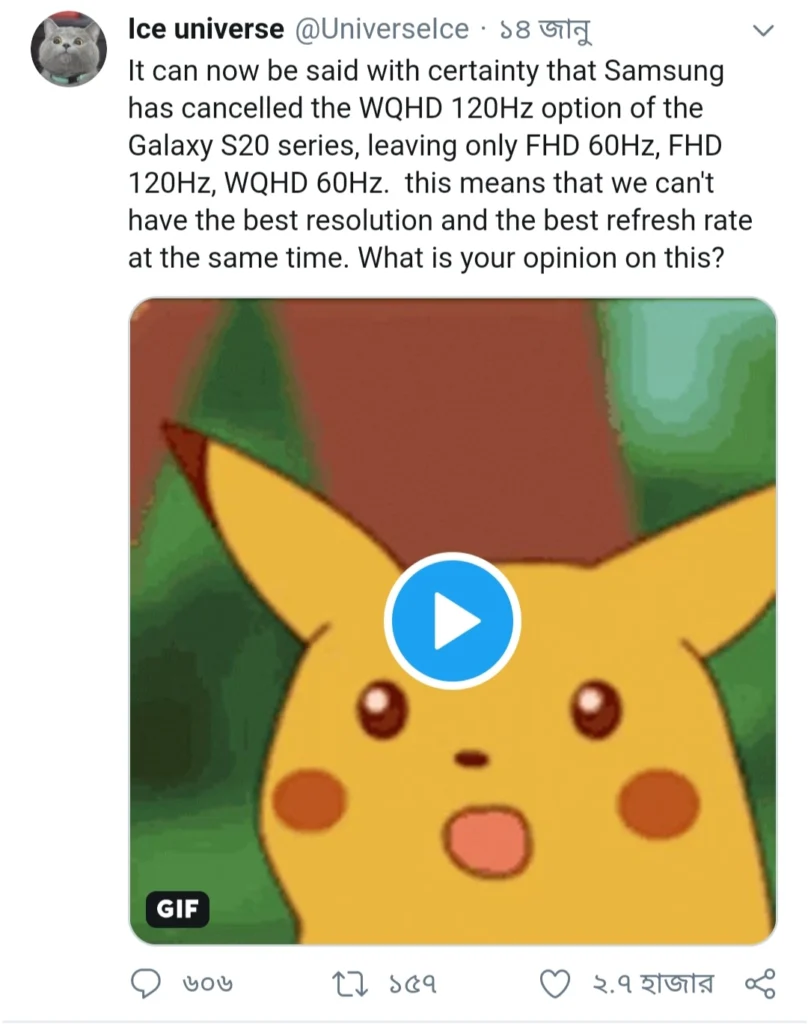 According to rumors, it is confirmed that we are getting a 6.2-inch display in Samsung Galaxy S20, 6.7 inches in Galaxy S20+ and 6.9 inches in Galaxy S20 Ultra.
Samsung Galaxy S20 Camera
About the Camera, The Samsung Galaxy S20 and S20+ are expected to come with 12MP main cameras, aided by 64MP telephoto and 12MP ultrawide shooters and the S20+ also gets a ToF sensor. The Galaxy S20 Ultra is assumed to come with a 108MP main shooter alongside 48MP telephoto and 12 MP ultrawide cameras and a ToF sensor.
The phone is being tipped to house the Snapdragon 865 SoC under the hood. The Galaxy S20+ 5G scoring 923 and 3,267 points in Geekbench 5's single and multi-core tests. It will bring 12GB RAM and pair it with up to 256GB of storage. Galaxy S20 will support 8K video recording – at 30 frames per second.
Back to the topic, the 120Hz refresh rate will be locked to FullHD+ resolutions only. Also, it's more than possible that, the company issues a software update later down the road, allowing users to enable the 120Hz refresh at the WQHD+ resolution, but for now, it's limited to Full HD+, assuming the rumor is true.