Google Celebrates Its 25th Anniversary with A New Doodle Logo
Google is celebrating its 25th anniversary today, September 27, 2023. The company was founded by Larry Page and Sergey Brin in 1998, and has since become one of the most successful and influential technology companies in the world.
Google's mission is to "organize the world's information and make it universally accessible and useful." The company has achieved this mission by developing a wide range of products and services, including its flagship search engine, as well as Gmail, Google Maps, Google Drive, and YouTube.
To celebrate its 25th anniversary, Google has released a special Doodle on its homepage. The Doodle is a fun and interactive way to learn about Google's history and products.
When is Google's Birthday Celebrated?
Google's birthday is celebrated on September 27. The company was incorporated on September 4, 1998, but it started celebrating its anniversary on September 27, 2005.
Google celebrates its birthday every year with a new Google Doodle. Doodles are often creative and interactive and celebrate Google's history and mission
What was the First Google Doodle?
The first Google Doodle was a simple stick figure behind the second "o" in the word "Google". It was created in 1998 by Google co-founders Larry Page and Sergey Brin to inform users that they would be out of the office while attending the Burning Man festival.
The first doodle was popular with users, and Google created more doodles to celebrate holidays and other special events. Today, doodles are a regular feature of the Google homepage, and they are often creative and interactive
There is also a surprise for Google users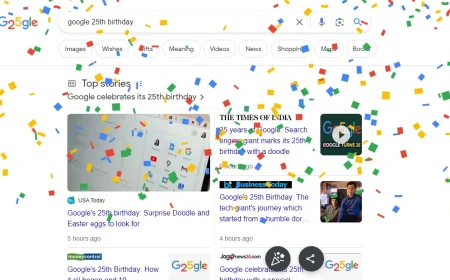 First go to Google.com
Then search "google 25th birthday" on Google and enjoy the surprise
Google CEO Tweets on Google's 25th Anniversary
When is Google's birthday?
Google's birthday is September 27th
Google was founded by two students and who are they?
Google was founded by two PhD students at Stanford University, Larry Page and Sergey Brin.