North By Northwest: A 'Wrong Man' Masterpiece From Hitchcock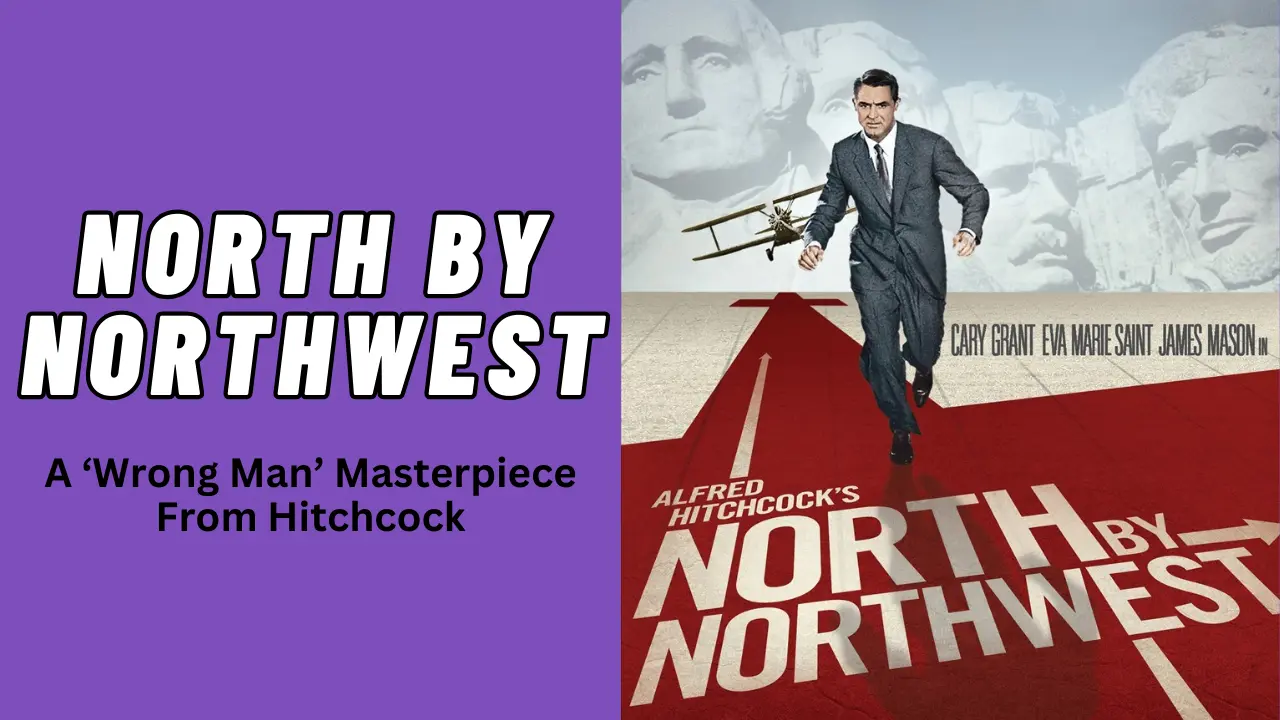 Thriller, action, comedy, romance- putting all these in one film and coming up with a good film is not an easy task, even in this era of seemingly endless sea of ideas. But as we know, Alfred Hitchcock was not just another movie director, he made North By Northwest back in 1959, which is still considered as one of the ALL TIME BEST MOVIES.
The movie starts with Roger Thornhill, an advertising executive, who talks to his secretary and goes to a hotel bar. Two thugs abduct him from there at gunpoint and take him to a mysterious man to meet. The man refers Thornhill as "George Kaplan" and offers him money to co-operate. But Thornhill refuses as he doesn't understand what the man is talking about. The man, who later turned out as spy Phillip Vandamm, instructs his men to arrange Thronhill's death by a staged drunk driving. But he survives and later after failing to convince his mother and the police about his innocence, he investigates about a Mr. Townsend, a UN diplomat. But Townsend is killed before divulging any information about Vandamm and Thronhill is forced to flee because of apparently being the killer. He sneaks onto the 20th Century Limited  train and meets Eve Kendall. The two build up a relationship, though the later one is secretly working for Vandamm. Can Thronhill reach the bottom of this mystery? Can he find out the real "George Kaplan" and thwart Vandamm's plan? If you want to know, you have to watch the movie.
The movie is starred by Cary Grant, Eva Marie Saint & James Mason.
Grant's performance was highly praised as Roger Thornhill. The New York Times remarked that the actor "was never more at home than in this role of the advertising-man-on-the-lam" and handled the role "with professional aplomb and grace."
Hitchcock surprised many by choosing Eva Marie Saint for the Femme Fatale role in the movie, as there were over dozens of candidate for the role. He even went to the length of cutting off Eva's waist long blonde hair, which was the first time ever in her career. However, her exceptional performance as the lead female character proved that, the director was right choosing her. Eva's performance was said to be smart, simple, subtle and quiet, just as Hitchcock wanted. Coupled with her changed screen persona, Eva's splendid acting did the job well done of keeping both Cary Grant and the audience off the balance throughout the movie.
North By Northwest  is a highly acclaimed movie, even in these days. Both in box office and critical reviewing, the movie was a huge hit. It is now currently holding a 99% approval rating in Rotten Tomatoes, with an average rating of 9.05 out of 10, with a statement of the site, "Gripping, suspenseful and visually iconic, this late-period Hitchcock classic laid the groundwork for countless action thrillers to follow." Time magazine called the movie "Smoothly troweled and thoroughly entertaining."
Critics and Journalists like Charles Champlin & Nick Clooney praised the film by saying "Anthology of typical Hitchcockian situations", "Representative of Hitchcock's finest work", and "Certainly Alfred Hitchcock's most stylish thriller, if not his best."
Hitchcock wanted something light, fun and generally free of symbolism, unlike his other films. Ernest Lehman, who wrote the screenplay of the film, wanted to "the Hitchcock picture to end all Hitchcock pictures" also had a intention of mocking the people who look symbolism in films. The film is considered to be a masterpiece for its themes of mistaken identity, moral relativism and deception in the 'Cold War' era.
Many call North By Northwest  the 'First James Bond Movie' because of its splashily colorful settings, secret agents, cat & mouse chase movements; an elegant, daring, wisecracking leading man facing off a sinister yet strangely charming villain. The helicopter chase in From Russia with Love is said to have been inspired by the crop-duster scene from North By Northwest, which is considered to be one of the most iconic scenes in all of American film.
The movie also contains Hitchcock's mischievous sense of humor, which can be sensed by the film's final shot — that of the train speeding into a tunnel during a romantic embrace onboard. He called it as 'Phallic Symbol' and said, it was one of the most impudent shots he had ever made.