Long Tail Pro Review [2023]: A Detailed Review+ How to Use it
Long Tail Pro is already a popular keyword research tool, and it's demand getting day by day worldwide. Today, I'm going to talk about Long Tail Pro review and how to use it.
There are many websites you will find in the google search results that already talked about Long Tail Pro review. But, today I'm going to review and explain my honest opinion on Long Tail Pro as I have been using it for an extended period in my four sites.
I've already talked about free keyword research tools in my previous article. But, they are limited.
If you want to build a niche website or blog website and expecting to get a lot of traffic for making money, then my brother, it's "Keyword" which you must give the most vital attention.
I started blogging in 2013, and to be honest, I didn't have any idea on keyword research or how SEO works. I just wondered how other people are getting a lot of traffic and making a massive income on their blog or niche website.
Back then, I researched a lot and found that how keyword research works and how it can boost my SEO.
It's 2020, and most of the bloggers are aware of keyword research and follow a regular keyword research strategy to gain enough targeted traffic.
There are a lot of keyword research tools out there like Semrush, Ahrefs, and much more. But, It's the Long Tail Pro that we are talking about. And I'll show you how Long Tail Pro is unique from the other SEO keyword research tools.
Long Tail Pro Review (Detailed+Guideline)
Let's answer some questions before we jump to LongTailPro review. If you are new in keyword research or heard the name of Long Tail Pro, this question would help you get you that.
Long Tail Pro is one of the best keyword research tools that help webmasters generate long tail keywords. The unique thing is that you can get thousands of low-competitive high volume long tail keywords that will help your article rank in the top ten of Google search results.
LongTailPro is a unique software tool that generates "Long Tail Keyword". You just have to put the seed keyword in the field, and it will get you hundreds of thousands of long tail keywords that can easily rank in google.
The best thing is, it generates low-competitive high volume keywords. Besides keyword research, you can get The search volume and keyword difficulty that LongTailPro generates is much more accurate than other keyword research tools.
You can also get a 7 days Long Tail Pro subscription. I recommend you get the Long Tail Pro trial before you purchase. You can cancel it anytime you want.
Why should you buy Long Tail Pro? Is LongTailPro is a perfect keyword research tool for my website?
Well, Long Tail Pro is used by many famous bloggers and affiliate marketers in the world. If you are trying to find the most profitable keywords for your niche website or blog website, then LTP is an excellent choice to make.
The idea of affiliate marketing and earning from a blog or niche site is increasing rapidly. But, not all of them can make money. It's because Bloggers are nowadays are a bit smart and intelligent. They follow lots of SEO strategies to rank their site in the google search result.
If you are are doing amazon affiliate marketing or other affiliate marketing, then, you must use LTP. Why? As you are here and reading my LTP review, I hope you already know what Long tail keyword is. If you don't, then here is a short note:
"Long Tail" keywords are those specific long keywords and phrases that get lower volume but get you a high conversion rate. Long Tail keywords are way less competitive than a general short keyword. A long tail keyword can be ranked easily in the google search.
So, if you are doing affiliate marketing or intend to do so, then you must need long tail keywords that can get you top in Google.
And here what Long Tail Pro does is to get you the best long tail keywords for your Amazon niche site or blog to rank in google. The more keywords you will rank for, the more money you will make.
Why should you not use Free keyword research tools? Free keyword research tools vs Long Tail Pro
What types of data can a free keyword research tool get you? Search volume and? Nothing. You can generate some keywords with volume by a free keyword research tool. But you can't get the essential data like KC (Keyword Competitiveness). Even free keyword research tools don't show you the exact data, and they are limited.
To be honest, using a free keyword research tool, you hardly can make an article ranked in the search result.
Just ask yourself, why would people buy paid keyword tools instead of free keyword research tools?
Beginner or not, you should not waste your time in such free keyword research tools. There are few good free keyword research tools out there. But they are limited.
Long Tail Keyword software tool gets you all of the necessary data that you will need to rank in. It will show you the exact volume that a keyword gets per month. Besides, LTP shows you how hard or easy a keyword easy to rank by their KC (Keyword Competitiveness) meter like the below picture: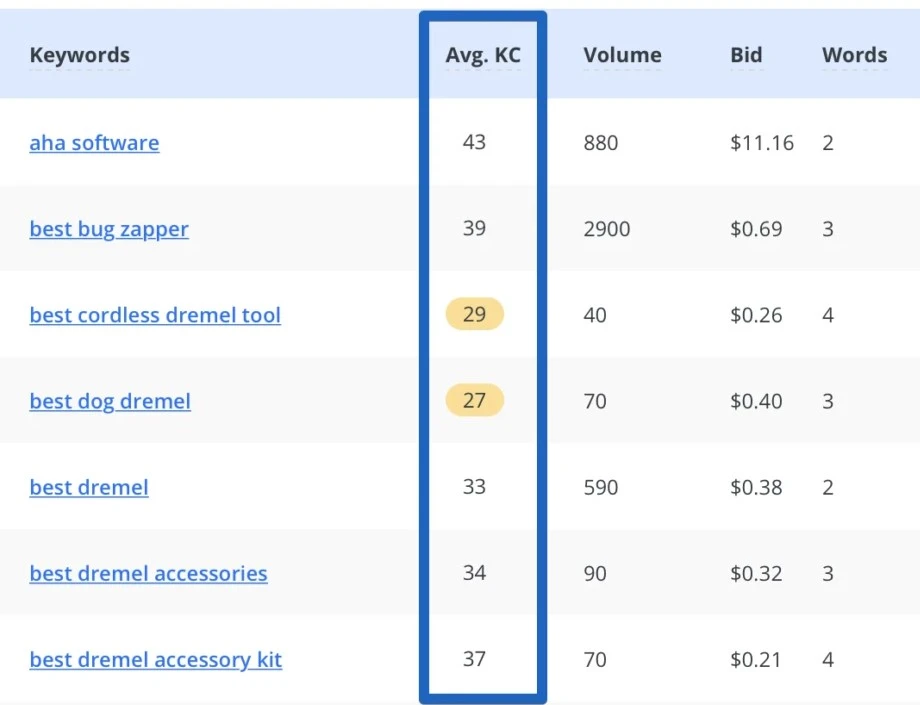 LTP's KC meter beats other paid keyword research tool's keyword difficulty meter like Semrush. Long Tail Keyword vs Semrush: LTP wins here. It provides you with the most accurate KC meter than other keyword software tool.
So, in the question – "Is Long Tail Pro worth it?" get an evidently yes from me without any doubt.
Long Tail Pro Review: Tools
LongTailPro's 'Keyword Research' tool lets you generate hundreds of thousand long tail keywords. You will need to add the seed keywords, and it will do the rest.
You can add up to 5 seed keywords at once. This keyword research feature gets you long tail keyword suggestions with the data like volumes, kc, competition, bid, and much more.
It merely generates a huge list of easy keywords that has a good number of search volume which you can easily go after to rank for.
I'll show how to use this feature and how to use Long Tail Pro to find keywords at the end of this post.
This is an awesome LTP's tool! LTP's SERP Analysis lets you get the detailed information of a keyword. If you already got a keyword and want to know how other sites are ranking in the top ten of Google, this tool lets you do so.
It shows you the strongest competitor for a keyword. Besides, you will get many factors that are shown in the below picture. These factors help to understand the keyword in the best possible way.
Rank Tracker lets you track your keywords. It shows how your keyword is performing in the Google search result.
But, you have to add the keywords manually here.
Moreover, you can track your competitor's keywords with this Rank Tracker tool. I will show you how Rank Tracker works in Long Tail Pro this post's Long Tail Pro tutorial section.
By LTP's backup analysis feature, you can get your as well as your competitor's backlink profile. It displays all the backlinks and their data in a significant way.
Long Tail Pro Review: Plans and Pricing
Long Tail Pro offers a different price for both annual and yearly subscriptions. If you compare LTP's pricing with other SEO keyword research tools like aherefs or SemRush, you see that Long Tail Pro is way cheaper. Even LTP's most expensive plan is less costly than other cheapest plan.
Long Tail Pro Annual Subscriptions Review:
As you see, Long Tail Pro has 3 specific plans for their Annual subscription. Annual Starter, Annual Pro, and Annual Agency.
Long Tail Pro's Annual Starter: If you are an individual and have one website, then LTP's Annual Starter pack is the best choice for you. You can lookup for 800 keywords, 800 kc calculation, and 800 SERP analysis per 24 hours.
If you are just getting started with your website and want to grow it big, you can buy this Starter plan. LTP's Starter plan will cost you $25 for each month if you go with their annual plan.
Long Tail Pro's Annual Pro: If you have 5-6 websites or more and want to do keyword research for them, I suggest you purchase LTP's Annual Pro plan.
With this Annual pro plan, you can look up for 2500 keywords, kc, and SERP analysis per day.
The annual pro plan will cost you $45 for each month with the annual subscription.
Long Tail Pro's Annual Agency: If you are an agency or works with a team, then you should go for this plan. Only if you have a large website, you should purchase this plan.
You can do the research 6000 times per day! Yeah, it's a big amount. That's why I suggest you go for it if you have the needs. Otherwise, purchase the Annual Starter or Annual Pro.
LTP's Annual Agency will cost you $98 each month with their annual subscription.
Long Tail Pro Monthly Subscription Review
LTP's monthly plans are billed monthly. Like the annual subscription, they offer three monthly plans: Monthly Starter, Monthly Pro, Monthly Agency.
These are the same as the above annual subscription. The only difference is that you need to pay per month.
LongTailPro's monthly subscription starts from $37 to $147. Like the above, you can decide which LTP's monthly plan you should buy.
LongTailPro Reviews: Pros and Cons of Long Tail Pro
Get your Long Tail Keyword suggestion in Bulk: As I mentioned above, LTP generates you hundreds of thousands of keywords and long tail keyword per seed keyword in bulk. They generate the long tail low competitive keywords that are easy to rank.
Let's you create multiple projects: LongTailPro lets you create multiple projects for your multiple blogs or niche site that make your work simple and easy.
Most Accurate Keyword Competitiveness (kc) meter: keyword competitiveness is a metric given by LongTailPro that shows you a number from 0-100. It indicates how hard or easy it will be to rank the keyword on Google.
Typically, A keyword in the rang of 0-30 is an easy keyword to rank. 31-40 is the range of a medium. Anything above 40 means that the keyword is tough to rank for.
Long Tail Pro's keyword competitiveness shows the most accurate meter than other keyword research tools. And I love this option.
Unique SERP Analysis: LongTailPro provides one of the best data that shows keywords competitions in Google's top ten with some significant metrics.
KC, Domain KC, Trust Flow, Citation Flow, Domain TF, Domain CF, External Backlinks, Page Ref Domains, Root Ref Domain, Indexed URLs, Link Age – these metrics will easily help you to understand if you should go for it or not.
Accurate Rank Tracker: The Rank tracker is an excellent tool by Long Tail Pro. It's easy to use and gets you the most precise rank tracking of your keywords.
Free Trial and 100% Money-Back Guarantee: You can get a 7 days LongTailPro subscription for free. I suggest you get the LTP's free trial and test yourself. You can cancel their subscription whenever you want to. You just need to simply contact their support team and ask them to cancel the subscription.
Live Customer Support: You can get support from LongTailPro whenever you want to via their live customer support. Their expert team is always ready for you to get the best support for you.
Limited Seed Keywords Input: You can input 5 seed keywords at once in the keyword field to generate long tail keyword suggestions. It's not a big deal though the limit could be higher. I hope Long Tail Pro would make a change to it.
Manual Keyword input in Rank Tracker: The Rank tracker is a great tool, no doubt. But, you need to input the keyword manually by yourself. However, there is a benefit of it for input the keyword manually as you can get your competitor's keyword ranking data very easily.
How to Use Long Tail Pro to Find Keywords: Tutorial
Well, I hope, my review on Long Tail Pro gets you the information that you needed. So, now, here is the tutorial for using LongTailPro.
First of all, you will need a LongTailPro account to start. Get the LongTailPro and follow the below method.
I'm going to make you understand the method by using examples. Suppose, you have an amazon niche site and looking for low competitiveness high volume keyword to get a high conversion rate.
     2. Log in to LongTailPro, and you will need to create a campaign first.
     3. Select your desired search country. I'm picking the United States here.
     4. After that, you will jump to the keyword research section. Here you can search for both keyword suggestions and your niche domain name suggestions.
    5. You need to add the seed keyword for generating long tail keywords. N.B. You can add 5 keywords at once. For example, I'm adding the seed keyword – "Baby Car Mirror". And look at what I get in the below picture.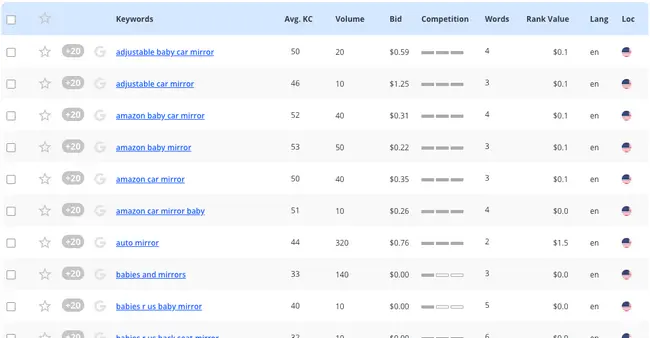 It generated 400 low-competitive long tail keywords with the metrics. It gets you 400 keywords per seed keyword. That means you will get 2000 keywords suggestion at once for 5 seed keywords! 
Most importantly, you should use the LTP's filter option here.
For that, click on the "Advanced Option".
Here you can add the keyword volume range and the competition. It will help you to get the lowest competitive keywords.
For example, We choose the keyword "best".
Now we want to look for an in-depth preview of this keyword in google top ten and decide whether we should go for this keyword or not.
For that, simply click on the keyword or use the SERP analysis tool. So, here is the result.
Now we know that it's an easy keyword we can go after it.
That's how you can find low-competitive long tail keywords for your niche or blog site by using LongTailPro.
Long Tail Pro Review: Conclusion
Long Tail Pro is a great keyword research software tool, no doubt. Starting a blog or amazon niche website with Long Tail Keyword is undoubtedly the best choice.
I hope you can now target the less competitive profitable money keywords and start generating revenue for your website.
Please let me know in the comment section If I miss anything in this review on LongTailPro. Good luck!