5 Best Free Keyword Research Tools for Your Blog Post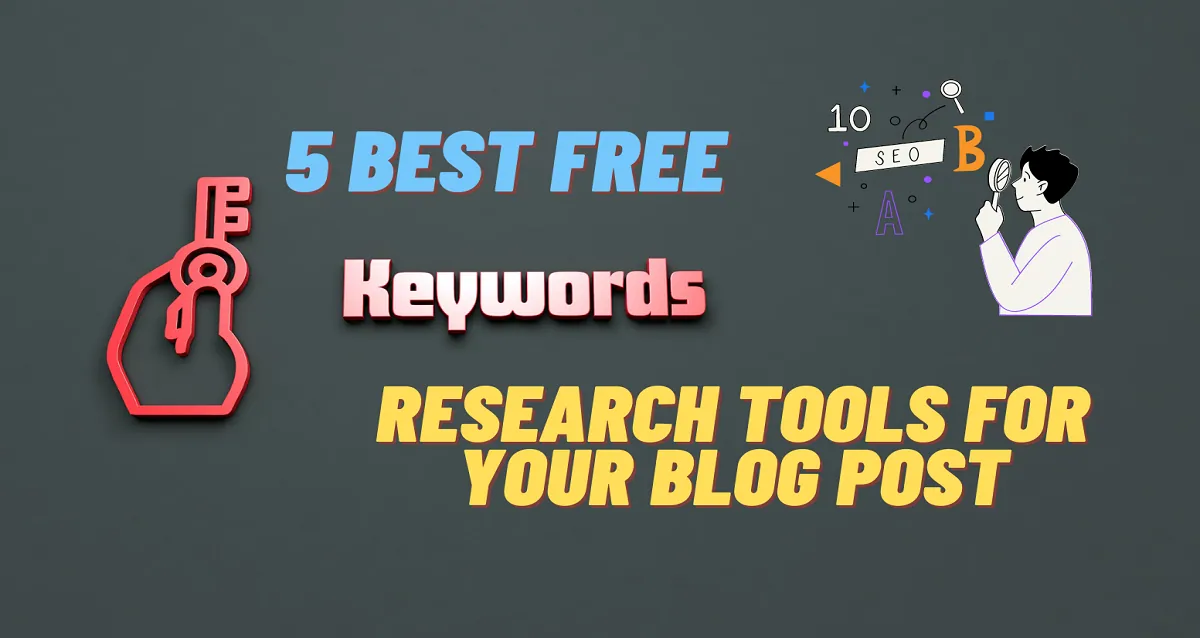 You want to find a keyword to target for your blog post. But, sadly, you don't have enough budget to pay for a paid keyword research tool. Don't worry! There are many free keyword research tools that can help you to rank your blog in the first position of Google search result.
Keyword research is the key to rank your blog in Google. Mainly, keywords tell Google what your content is about.
Google follows many algorithms to show content in search results. If you don't know how to make the proper use of keywords, you won't be able to get good traffic from search engine.
Also Read: Long Tail Pro Review [2020]: A Detailed Review+ How to Use it
5 Best Free Keyword Research Tools
Before talking about free keyword finders, let's talk about what can be done by these keyword research free tools. You can get :
The perfect keywords for your content
Monthly traffic volume
Competition level & competitor details
LSI keywords
These tools are the best as a free keyword analysis tool. Let's jump into the main discussion:
Google keyword planner is the best free keyword research tool that's available on the internet. Think, Google itself suggesting you keywords to rank your post to their search result.
To find keywords you need to join Google Adwords or simply go to Google keyword planner
You just need to add your seed keyword and it will get you a lot of keyword suggestions with search volume.
Google AdWords keyword planner is best for its search volume data. In fact, it will help you to select the best keyword for your website/blog post.
Google Trends is a great free keyword revealer. You can get both related queries based on your seed keyword and its popularity.
The best thing about Google Trend is, you can also check that your keyword popularity is growing on YouTube or not. Cool, hah?
However, you can also compare the popularity of keywords. It will show a graph that shows which keyword is growing month by month.
Google Trends works best for getting relative keywords. It also helps you to select the best keyword as it has the option to compare keywords popularity.
By Soovle, you can get not only Google searched keywords but also other sources searched keywords like Bing, Amazon, Wikipedia, Youtube and so on.
You can also save suggested keywords from Soovle with drag & drop way.
Whenever you put your keywords in Soovle, it automatically starts to show suggested keywords on your screen.
However, the best feature of Soovle is it shows google-searched data along with Wikipedia,YouTube,answer.com, bing, yahoo and more.
Keywordtool.io is a free keyword research tool that helps you to find keywords based on location. You can search for keywords for global as well as for specific countries.
Keywordtool.io also shows google keyword search volume. But it's limited.

However, as a free keyword tool, Keywordtool.io generates enough keyword suggestions for you. Moreover, you have the option to choose a country.
The feature I like most about Keywordtool.io is, it generates keywords from YouTube, eBay and more popular sources besides google.
Keyword Sheeter gets you a lot of autocomplete suggestions from Google.
The best thing about Keyword Sheeter is, it can generate more than 1000 keyword suggestions. It also has the feature to filter keyword as positive and negative. For example: if you are looking for a keyword like 'Puma' company, you can filter the result to the company not the animal 'Puma'
Free keyword research tools are not enough to do perfect keyword research. But if you are a beginner or you don't have enough money to buy a paid keyword research tool then these free keyword research tools can help you to find the best keyword for your blog post or other keyword related things.