How to Open PayPal Account in Bangladesh (Fully Verified)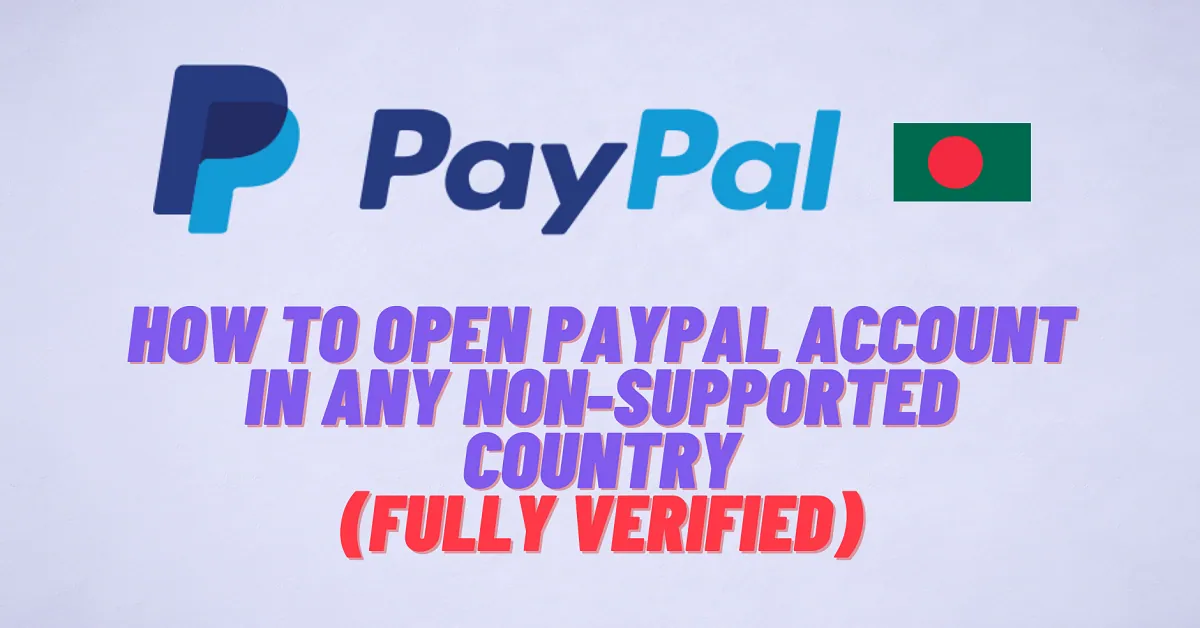 We all know, PayPal doesn't support in Bangladesh. It's one of the terrifying things for our Bangladeshi freelancers. But don't worry about this. I'm going to show you how to open a fully verified PayPal account in Bangladesh and other non-supported countries.
PayPal is most important for affiliate marketer because most affiliate websites use PayPal only as payment gateway. People are using PayPal from Bangladesh in various ways. But, you know, getting PayPal limitation is the worst part of it. If you open an account through any method from Bangladesh or any other unsupported country and the account becomes limited, it is almost impossible to get it back. However, I did a lot of research and found some methods that work perfectly fine.
If you maintain all the processes that I'm gonna tell you, you won't get a limitation from PayPal. Using this method, you can make a fully verified PayPal account from any unsupported country.
Why You Need PayPal in Bangladesh?
Well, as you are reading this, I hope you know how the worldwide payment system works. PayPal is widely used all over the world. Even if a company has only one payment system, It would be PayPal. That's why many of us can't withdraw their money online. No matter what, you will feel this every time that how badly affected we are in the cyber world only because we don't have PayPal Bangladesh.
Moreover, I hope, Bangladesh government will work on this to bring PayPal in Bangladesh. Whatever, today I'll tell you 4 ways to create verified PayPal account from Bangladesh and Non-supported countries.
How to Create a Verified PayPal Account from Bangladesh
The first method is not a traditional tutorial. You may refer to it as advice. It's the only legit way to use PayPal from Bangladesh. If you have friends or relatives in any PayPal supported country, ask them to open a PayPal account using their legal information.
It's a secure way to deal with PayPal from any unsupported countries. If you face any problem with your PayPal account, you can easily solve this by providing your friends/relatives legal information.
It's safer than anything for PayPal non-supported countries.
Well, If the above advice doesn't solve your problem, then keep reading this. Before I jump to the other methods, I want to mention that It's not legal. And I'm not encouraging you to do this. Also, I won't be responsible if anything goes wrong with the PayPal account you'll create using the methods. Only use PayPal this way if you haven't any choice. This method works just fine, and many freelancers are using PayPal this way for years in Bangladesh and other restricted countries.
Open Verified PayPal Account in Bangladesh
With this method, we are gonna create USA verified PayPal account from Bangladesh. If we create PayPal using this method, there won't be any limit. And I know some people who are using this method for years, and there aren't any issues.
Before we process the method, we need some several things like,
USA mobile number
USA bank Account
A debit card.
So how do we get that?
Don't you worry about this?!! I'm gonna show you how you can get all of this.
To get all the required things, we need to open a Payoneer account. Follow these steps by steps guide to open verified Payoneer account.
Go to Payoneer and click Register.
After that, fill up all the details according to your ID card. (Don't put wrong details).
Finally, you have to add your bank account in the account and click finish.
Now, Payoneer will review your application. Within 2 days, you will get approval.
Note: Payoneer is one of the largest payment services in the world like PayPal. You can receive your freelancing money directly to your Payoneer account and withdraw it through ATM. If you create your Payoneer account through my referral link, you will get $25 bonus for free.
After Payoneer approved your account, you will get 4 virtual bank accounts. And yes, there is a USA bank account. Log in to your Payoneer account and navigate to Receive> Global Payment Service. Now scroll and click on your US bank account. Bingo! you get a USA virtual bank account with the account number, sort code, beneficiary name, and other details.
Well, now we need a USA mobile number. For that, simply go to the play store and install the 2nd line app. Open the app and create an account using your email. Boom! You can choose your desired USA number for free!
Create PayPal Account From BD or Unsupported Country Using These Steps
Now go to Paypal and click on the Sign-up button.
Put your email, username, password.
Fill up all the necessary boxes. You can get the USA fake address from Google.
When the mobile number option will pop up, enter the number that you got from 2nd line and click "Send code."
Open 2nd line and get the code. Simply enter it and click verify.
After creating the account, confirm your email.
Go to add a bank/card option and enter the bank details from Payoneer. [If PayPal denies the bank details, go to the Payoneer help center and request them to issue you a new US bank. They are quite friendly and would give you new bank account details within a few days.
Lastly, you can enter your Payoneer card in your PayPal account. That's all!
If you follow the method, described in the above, you can easily use PayPal from Bangladesh. Remember, you can only get Payoneer Mastercard when your account gets $100 from marketplaces. You can add your card later. It isn't mandatory.
How to Make PayPal Account In Bangladesh
PayPal cy or PayPal Cyprus business account from Bangladesh is not valid but we need PayPal account for important work. One of the advantages of a PayPal Cyprus account is that you can open an account with any country number. There is no problem with the number, you can open a PayPal cy account with a Bangladeshi number.
Here are the step-by-step instructions for creating a PayPal Cyprus account:
First you need to go to this link ( paypal.com/cy/home ) to create a PayPal Cyprus account
You can complete the rest of the steps by watching this video:
This method used to work fine but now seems to limit the account. Many of those who made accounts using this method 4 to 5 years ago, their accounts are still working fine. Rather I know a person whose PayPal Cyprus account is still fine and he transacts around $1000 per day with this PayPal CY account.
Not only PayPal Cyprus account is limited but almost all accounts will be limited if not used properly. Want to know how to use the account will not limit easily?
PayPal Account Create Bangladesh
Making a PayPal account from Bangladesh is a bit of a hassle so most people buy USA verified PayPal account from sellers on various ads, social media platforms and Facebook groups to avoid this hassle. If these accounts are not managed properly, they will be permanently limited.
Most of these account service providers in Bangladesh are scammers. So be careful in taking this type of account. Also these accounts are completely illegal. And Tech Battler is not encouraging you to do that.
Can I Open PayPal Account In Bangladesh
As of September 29, 2023, PayPal is not available in Bangladesh. There are a few reasons for this, including financial regulations, the risk of fraud, and the lack of demand. However, there is a growing demand for PayPal in Bangladesh, and it is possible that PayPal will enter the market in the future.
I want to mention it again that, only use it if you have no choice. I do not guarantee you, but it will let you using PayPal from Bangladesh. And it's my humble request to the authority to bring Paypal in Bangladesh. Freelancers are losing a lot of money for not having verified Paypal account.
However, please feel free to let me know in the comment section if you have any questions. Good Luck!