How to Share Google Analytics Report With Others Easily
If you are looking to share Google Analytics reports to your client or anyone without sharing access to the account, read this.
Sharing Google Analytics data isn't that hard.
Today, I'm going to show you 2 different methods to share your Google Analytics data/report to anyone you want without giving them your Google Analytics access.
Before that, let's answer some widely asked questions for sharing Google Analytics report.
Why You Need to Share Your Google Analytics Dashboard to Others
After starting a blog, I worked on different sites.
Back in 2018, I sold one of my blogs.
Before buying the website, the buyer asked me to share my Google Analytics report.
So, what do you think about that? Did I give my Google Analytics access to a person whom I barely knew?
I was cautious about my Google Analytics dashboard and didn't want to give him access.
Hence, I researched a lot and found ways to share my analytics data without letting him get access to my Google Analytics account.
It's not the only reason that forces you to share your Google Analytics data with others.
You may need to share your analytics data or your event tracking report to your clients, website partners for many different reasons.
Even if you want to sell your website area for advertisement, you may need to share your website's traffic data with your customers.
Actually, there are more than a hundred reasons for sharing your Google Analytics report.
In this article, I'll talk about 2 different methods.
The first one is the easiest method, where we will use a WordPress plugin.
And the second one is using Google Analytics itself.
Share Google Analytics Report with Others Using MonsterInsights
MonsterInsights is the best google analytics plugin that lets you manage your Google Analytics report directly from your WordPress dashboard.
MonsterInsights is a powerful Google Analytics plugin with a very beginner-friendly interface.
If you are not so comfortable with the classic Google Analytics hard interface, you must give it a try.
We are using MonsterInsights in TechBattler from the very beginning as It saves us a lot more time and let us get all the custom analytics report directly from our WordPress dashboard.
Read our detailed MonsterInsights Review to know all the features and how to use MonsterInsights.
Get 50% OFF in MonsterInsights Today!
With MonsterInsights, you can easily share your Google Analytics data to your client or anyone in different ways.
You can even share your weekly report to your client through email.
To do that, first of all, get MonsterInsights from here.
Install and activate the plugin in your wp site.
Now, go to your WordPress dashboard, scroll to the MonsterInsights section, and navigate to Insights » Settings » Advanced.
In the "Email Summeries" section, you have the option to send your Google Analytics report to 5 different emails.
It's a simple way with customization features.
You can create a branded email with this by adding your logo and other things.
It's the easiest way to send your clients your website's traffic report.
And more importantly, you are not giving access to your Google Analytics to anyone!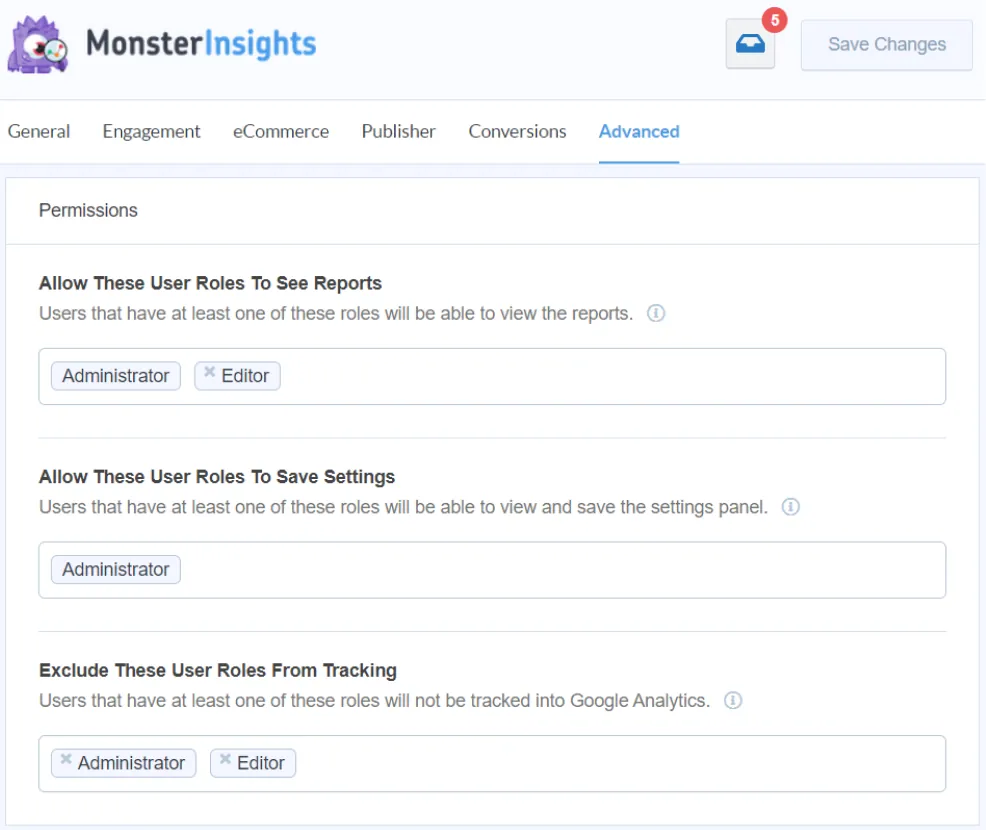 You can also export your Google Analytics Report in PDF and Share.
If you are using MonsterInsights, you can export any Google Analytics report in PDF format directly from your WordPress dashboard.
Simply go to the report that you want to export and click "Export."
You will get your highly decorated exact Google Analytics report.
I like this feature as it's quite simple and very fast.
Can I Share Access to My Google Analytics Using MonsterInsights?
Share Your Google Analytics Without Giving Access
With this method, we'll be using Google Analytics directly.
Log in to your Google Analytics account and navigate to "User Management" under the "Property" section.
Have a look at the right side. You will find a "+" icon. Click this.
Now click on "Add new user."
Here you have to provide your client email to invite him for viewing your Google Analytics report.
Remember, you must select "Editor" while adding the user. Also, you have to unmark the other options like Administrator.
I recommend using the first method as MonsterInsights lets you get all your Google Analytics reports directly from your WordPress dashboard.
Also, it lets you easily share Google Analytics report to anyone.
But, if you can't afford MonsterInsights, you can surely go with the second one.
Feel free to ask me anything regarding this in the comment section.
Say me "Thanks" by sharing this post. Good luck!