MonsterInsights Review: The Best Google Analytics Alternative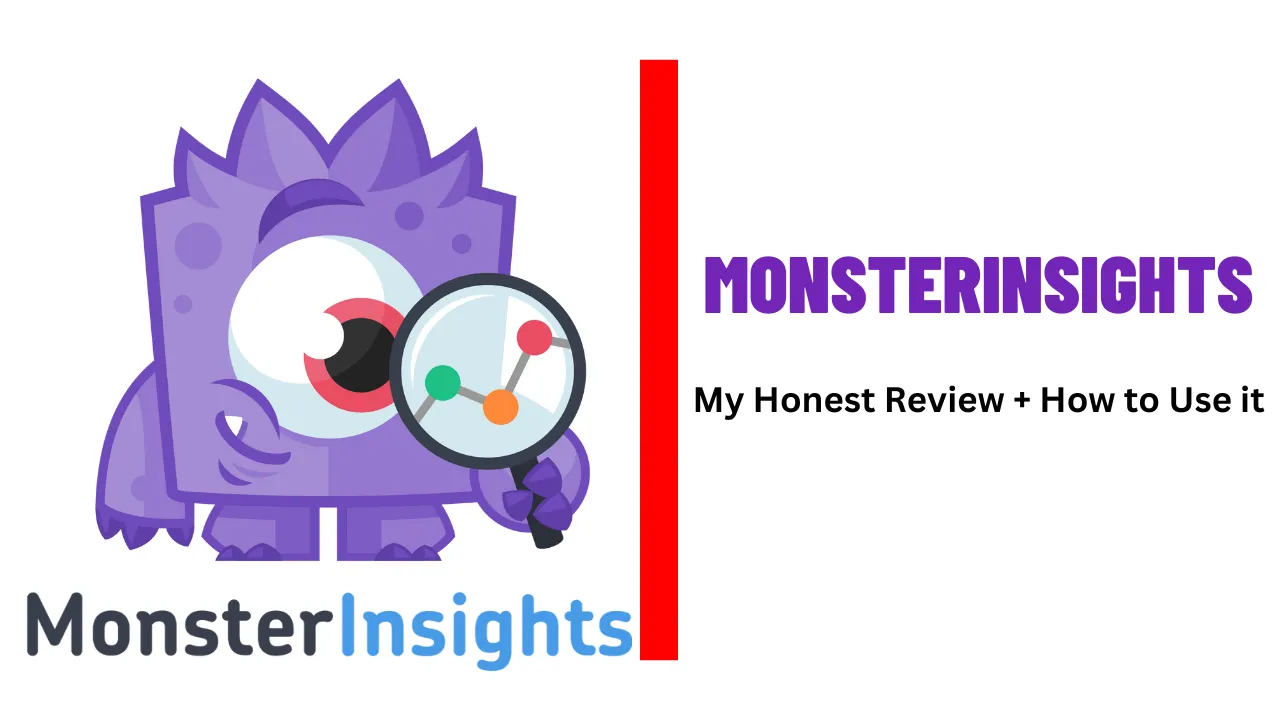 If you are looking for the best google analytics plugin for your WordPress website, then you have come to the right place.
MonsterInsights is currently the best google analytics plugin that is available on the market. Read our MonsterInsights review and decide if it's the perfect one for your site or not.
We will share here our detailed review on MonsterInsights. We'll have a more in-depth look at its features, pricing, pros-cons, and much more.
MonsterInsights is the best WordPress analytics plugin to manage and track google analytics data. If you are not a google analytics expert, then you can have a look at it!
Can you remember the google analytics plugin by Yoast? Yes, it's it. MonsterInsights was founded by the Yoast (No1. SEO plugin company).
Now it's hosted by the famous blogger and the founder of the WpBeginner, Sayed Balkhi.
The best thing about MonsterInsights is, you can get your google analytics data directly to your WordPress dashboard.
Expert or beginner, It gets you all your website analytics data in the easiest way directly to your WordPress dashboard. Even many popular bloggers are using this.
Why should you use MonsterInsights? Google Analytics vs MonsterInsights
You can not improve your WordPress SEO unless you have the analytics report on your website.
How can you know if your website is ranking well or not on google without an analytics report? No matter what WordPress themes or plugins you are using, you need a Google analytics plugin to show you detailed data on your site visitors and how they are performing.
Well, you must have the google analytics report, no doubt. But, if you are a beginner in google analytics, it will be so tough for you to understand the google analytics critical interface.
Google Analytics isn't user friendly enough for a beginner. Even some experts don't use it as it's a time-consuming way. So, here comes the MonsterInsights.
Monster Insights helps you to get all the essential analytics reports directly to your WordPress dashboard. It saves your time in a significant way, and people love it for its easy-going process.
Let's now jump to our detailed Monsterinsights review.
MonsterInsights Review (In-depth)
Free version vs Pro Version
Monsterinsight's free version is limited. On the other hand, the pro version unlocks more features that help you to get the best analytics data for your website.
Let's have a look at MonsterInsights free vs pro.
Easy Setup and Installation: You can easily install their free plugin from your WordPress dashboard plugin options. It's very easy to set up by their 1 click setup option.
Overall Reports: Shows your necessary overall analytics reports.
Session and page views report: This shows your unique visitors and session by date.
New vs Returning visitors report: This shows you the percentage of your new and returning visitors.
Top 10 Countries and Device Breakdown Reports: Get which 10 countries visitors visit your website the most. It also shows you the device they are using like Mobile/tablet or computer.
Referral reports: This shows the websites that direct visitors to your site.
Top Posts/Pages: This shows your website's top 10 posts/pages stats.
MonsterInsights Review: Features
MonsterInsights Pro provides the best google analytics tracking features. There are plenty of tracking features that help track specific data in a significant way.
These are all pro features. Purchase one of the paid plans, and you can avail of these excellent features.
Universal Tracking: You can set up universal tracking for a website to track across devices and platforms. This tracking data shows the most accurate data than old google analytics.
eCommerce Tracking Reports: If you are running an eCommerce website, this option helps you to track your eCommerce data.
Real-Time Report: Get your website's real-time stats. You can see and track who is visiting your website now, which page they are browsing, which device they are using or which country they are from, and much more.
Audience Demographics Report: By this demographic report, you can understand your visitors very well like their country, device, interest, gender, and much more information.
Behavior Report: Find how your visitors get to your website by which keywords or website.
Search Console report: Get your search console report directly to your WordPress dashboard.
Affiliate Link Tracking: By the affiliate link tracking option, you can track which product is generating you more conversation and much more affiliate reports. If you are doing affiliate marketing, you must need this feature of MonsterInsights.
Enhanced Link attributions: By this tracking option, you can get to know which button/links are performing well and generating leads for you.
Outbound Link Tracking: This option lets you track outbound links data like how much traffic it's getting from your site. It can be helpful if you are partnering or running a paid links campaign on your website.
File Download Tracking: This is a unique tracking feature of MonsterInsights. By this, you can track your file downloads.
Google AMP Tracking: If you have installed AMP on your website, you can track the traffic data for the amp version. It tracks visitor's stats through amp sites.
Scroll Tracking: You can track where your users are losing interest by this tracking option.
Forms Tracking: Track your all forms conversion rate and much more.
User ID Tracking: Track specific users like administrator, editor, or other.
Logged in User Tracking: Track logged-in user data and non-logged-in user data.
Author Tracking: If your website has multiple authors, you can use this option to track authors.
Post Type Tracking: Track custom type post that gets most visitors.
SEO Score Tracking: If you are using Yoast SEO, you can get the Yoast SEO score by this option.
Published Time Tracking: Track when you are getting the most visitors on your site.
Category Tracking: Track which category is performing well.
Tag Tracking: Track which tag is getting you, visitors.
Focus Keyword Tracking: It helps you segment traffic by focus keywords.
Telephone and Email Link Tracking: Track conversions of your telephone and email link.
Media Tracking: Track who watches your website's videos and durations of it.
Hash Url Tracking: Track your hash URL.
Custom Events Tracking: Let's you set custom events and track them.
There are also other tracking and report features.
Check: How to Easily Use Event Tracking in WordPress with Google Analytics
No 1 Google Analytics Plugin
Google Analytics for WordPress by MonsterInsights is the most popular google analytics plugin in the world. It has more than 2 million customers.
It is used by many famous bloggers and internet marketers in the world. We are using monster insights pro in TechBattler from the very beginning.
Easy and quick installation and Setup
Their installation and setup is straightforward. You can purchase a Monsterinsight pro plan from here, or you can use their limited free version from here.
Simply Install them through the plugin option, and their quick setup lets you easily set up the analytics for you.
You can easily customize the data. You have the total rights to which data you want to track or not. You can customize them easily.
The best thing is, Monster Insights gets you all your google analytics data to your WordPress dashboard directly. The interface is so simple. If you are a beginner, it will help you to understand all the analytics options.
According to the features that MonsterInsights provides, their pricing is affordable. They have 3 paid plans: Plus, Pro, Agency. See their pricing below.
You can also get MonsterInsights at the lowest price by our coupon code. Check below to get MonsterInsights coupon code.
Excellent customer support
They provide you with excellent customer support. If you purchase one of their paid plans, you will get expert support from the wordpress.org
If you use the MonsterInsights free plugin, you will get limited features. If you are very serious about your website, then we recommend you purchase their paid plan.
How to Use MonsterInsights Plugin to your WordPress site
We recommend you to purchase MonsterInsights from here. After purchasing, upload the plugin through your WordPress dashboard's plugin option.
If you just want to give a try to the MonsterInsights free plugin, go to WordPress dashboard>Plugins>Add new. And install and active the plugin- Google Analytics for WordPress by MonsterInsights.
After activating the plugin, you will have an option named – Insights. You can get all the reports and set up options here.
I will post a detailed user guide of MonsterInsights in my next post.
MonsterInsights Coupon And Deals
Though the pricing of MonsterInsights is affordable, you can get a discount. For our site visitors, anyone can get a special discount for MonsterInsights.
Go through this link and use this coupon code to avail of the discount.
Final Thoughts on MonsterInsights
Honestly speaking, there is no better plugin than MonsterInsights that can be your perfect GA alternatives.
If you are not a Pro in GA, you must need a plugin like MonsterInsight.
Comment below if you have any questions.