WPForms Review: What Makes It Different From Other WP Form Plugins
Years ago, when I just started blogging, I wondered and asked myself- "How the heck other bloggers are creating such beautiful WordPress forms!"
After that, I researched a lot and found this awesome idea of WordPress form builder plugin.
I tried several WordPress form plugins like Contact Form 7, Ninja Forms, Gravity Forms, etc.
These form plugins are awesome. But the problem is, some of them are not beginner-friendly and provide limited features.
Back in 2016, I came to know about WPForms. And guess what!?
It's totally beginner-friendly, and most importantly, it provides all the features that I needed.
Hence, I've come to review this awesome WordPress form builder plugin- WPForms.
Why Do you Need A WordPress Form Plugin?
Well, why don't you need a form plugin?
You need to set up your "Contact Us" page, Subscription forms, Newsletter forms, and so on!
We all need forms on our website to generate leads.
It's the form that builds the connection between you and your blog readers.
Also, a form lets you collect your customer's necessary data, building your email lists, generating leads, and more.
And it's the "Form Plugins" that help you build forms without writing a single code.
With WPForms, you can create any types of forms you want without writing a single piece of code. Cool, huh?
It has built-in templates and an easy drag n' drop builder, which will save your time and efforts.
In this WPForms review, I'm gonna discuss all the WPForms features, pros-cons, plans, pricing, and all essential factors. I'll also show you why WP forms is the best WordPress form plugin comparing to other form plugins.
In additionally, I'll show you how to use WPForms for creating such awesome forms at the end of this post.
So, let's start it!
WPForms Review: Features, Pros, Cons, and Everything!
WPForms is one of the most popular WordPress form builder plugins.
It was released in 2016 by Sayed Balkhi, the same man behind WP Beginner, MonsterInsights, Optinmonster, RafflePress, SeedProd, and Smash Balloon.
As mentioned above, I love WPForms as It's very beginner-friendly and provides all the possible form-plugin features and addons.
Since 2016, they've developed and brought new features. It has given form building a new level.
One of the main reasons for WPForms being the best form builder is that It lets you create both simple and advanced form designs within a few minutes.
WPForms has both free (WPForms Lite) and paid versions. Pro feature gives you more form customization features, templates, spam protection, and so on.
I'm using WPForms in my several blogs. As a TechBattler reader, you can get 50% OFF in WP Forms.
Well, it's an open secret that all the paid things provide extra features than the free version.
The question can be like this-
"Is WPForms free version is better than the other form plugin's free version?"
"What extra features WPForms free version provides than the other form builders?"
"Is WPForms free version beginner- friendly?"
"What extra features WPForms paid version provides than the other paid form plugins?"
And so on….!
WPForms Lite (Free) plugins let you create simple, decent forms with their very easy drag and drop form builder, and it's a great choice if you are just starting out.
On the other hand, WPForms Pro provides tons of customization features and addons to create any type of professional form and gives you total control.
WPForms Lite Features (Free Version)
Comparing the free version, WPForms Lite version provides more free features than the other form plugins. These free features are:
In WPForms Free version, you get full free access to 4 different form templates:
Blank Form: This blank form template lets you create any kind of simple looking forms for free. You just need to set the form as your wish with their drag and drop form builder.
Simple Contact Form: With the simple contact form template, you get a decent contact form template. You can either directly add this form to your "Contact" page, or you can add/remove fields as your wish.
Newsletter Sign Up Form: With this newsletter template, you can create a newsletter form for your website to build your email list. Also, you can add or remove fields of your taste!
Suggestion Form: You can ask for a suggestion or anything like that by creating such forms using this template.
[You will get more pre-built template in the WPForms paid plugins]
Easy Drag and Drop Form Builder: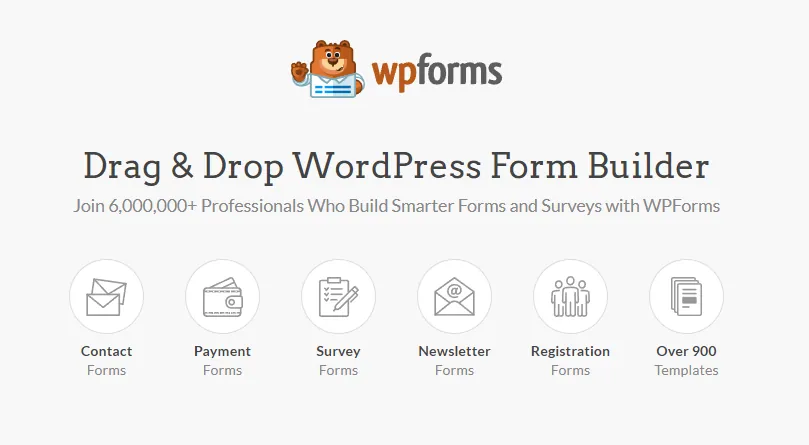 WPForms comes with their built-in Drag and Drop form builder that makes your form building process super easy.
You can easily drag any field you want from the bar and add it to your form. Need to change the field setting or make it stylish? Just click the field, and you get plenty of options to do that.
I love this feature as it saves much time for me, and it's quite responsive. The dragging system is so responsive.
This feature makes WPforms different from the other WP form builder plugins.
In the free version of WPForms, you get Constant Contact free integration.
So, whenever someone puts their mails submitting your form, it will automatically add the mail to your Constant Contact mailing list.
WPForms lets you manage all your form leads directly from your WordPress dashboard. It stores all the form entries and leads in your WordPress database.
So, whenever you want to look through your form entries, you don't need to leave your wp dashboard.
WPForms paid version unlocks almost every single feature you can think of.
Most importantly, WPForms offers 4 different paid plans- Basic, Plus, Pro, Elite. We will talk about in detail on the "WPForms Plans and Pricing" in this post later.
Some of the major Pro Features of WPForms Are:
Create Unlimited Forms with No Limitations
Using WPForms pro, you basically don't have any kind of limitations. You can create any type of form without any limit issue.
Point to be noted here: Like other form plugins, if you uninstall WPForms, the form won't work. But, whenever you activate the plugin, the forms will start to work again. To me, it's not an issue to think about.
There are pre-built form templates in WPforms paid plugin. All the templates are responsive and beautiful enough to use.
In the Pro plans of WPForms, you get 6 different form templates. If you purchase "Pro" or "Elite" license, you will get more templates.
Addons are the best additions in WPForms Pro features. Comparing to other wp forms plugin, WPForms provides a good number of addons that make form building super cool. These Addons are:
PayPal Addon: Lets you collect Paypal payments, donations, and online orders.
StripeAddon- Lets your website integrate with Stripe. You can easily collect payments, donations, and more.
Authorize.Net Addon- lets you securely receive any credit card payment.
Email Marketing Addon: lets you build your email list with Constant Contact, Mailchimp, AWeber, GetResponse, Campaign Monitor, ActiveCampaign, and Drip.
Zapier Addon- lets your wp website connected with 2000+ web apps.
Post Submissions Addon- lets you create "Guest Blogging" feature for your website.
Surveys and Polls Addon- lets you create survey forms.
Signature Addon- lets your sign forms with a mouse or touchscreen.
Form Page Addon- lets you create distraction-free form landing pages.
Form Abandonment Addon- lets you collect partial entries if someone doesn't complete a form.
Offline Forms Addon- lets users save form data offline.
Form Locker Addon- lets you restrict specific users by applying rules.
Conversational Forms Addon- lets you create lead generating targeted forms.
Form Templates Pack Addon- unlocks more built-in form templates in every niche.
With WPForms Conditional Logic feature, you can add/ remove any field item on the fly!
You can apply advanced condition using the field like you can restrict a form from the disqualified users or anything like this. Learn more about this feature from here
It's a very good feature to boost your conversions by dividing your forms into pages.
Why is that?
Just think, I'm asking you to submit a form that is quite long and asking for a lot of information.
So, what will be your reaction? Will you really be that much interested in having a look at the form?
Surely, a Big "No"!
This multi-page form feature lets you create responsive and stylish multi-page forms that will attract your visitors and help you to generate more leads. There can be other reasons for using this feature.
WPForms also provides other features like:
Instant Notification– lets your team quickly respond to any leads and entries.
File Uploads- lets users to add files or media with their form.
Spam Protection- protects your forms from the spammers.
Custom Captcha- lets you add custom captcha and simple math test in your forms.
Webhooks- lets you send all your form entries to any secondary tool or external service.
So, I think you've now had a clear view of all the WPForms features and my reasons for picking it as the best WordPress form builder plugin.
In this WPForms Review, I'll also show you how to use WPForms. Keep Reading.
WPForms paid plugin offers 4 paid plans: Basic, Plus, Pro, Elite.
Their basic plan gives you a single site license. The most popular plan of WPForm is the "Pro" plan. It unlocks all the features and addons except the "ActiveCampaign" addon. You can use the plugin in 5 different sites if you buy the "Pro" plan.
If you are an agency or work with clients, I recommend you to purchase the "Elite" plan. With the "Elite" plan, you can use it in unlimited sites with all the features and addons unlocked.
I appreciate their dedication to the Support section. They are quite fast and friendly. Whenever you face any kind of problem using WPForms, you'll get their response in a very short time.
Most importantly, you have to pay an additional amount of money (little) for their premium support. They provide email-based customer support.
No matter which product I purchase, I always check the product/service user reviews.
WPForms is a widely used WordPress form plugin with tremendous followers. Here is some WPForms review provided by the WPForms users and fans.
How to Use WPForms to Make WordPress Forms
Well, I'm just showing you the basics here. You can find all advanced WPForms form building tutorials on their website and Youtube channel.
First of all, get WPForms. Either purchase any plan or get WPForms free from here.
Go to your WordPress dashboard and navigate to plugin> Add New and upload the WPforms .zip file. Install and activate the plugin.
Now, look at the left side of your wp dashboard. There is a new option available named- WPforms.
Click on "Add New" and create any form by using their drag and drop form builder.
You can either create from the blank or use any pre-built template.
You can also add or remove any fields and change the settings anytime.
If you purchase any WPForms paid plan, you will have more options and customization options in the control panel.
WPForms Review Conclusion
WPForms is one of the best WordPress form builder plugins. They've built a huge customer base. I like WPforms the way it has to take care of all my form-related issues.
WPforms is already providing tons of features and addons. But if you ever feel the lack of any feature or something else, you have the option to request them through their "Request a Feature" option.
However, in this WPForms review, I tried to cover and answer all the questions. I also tried to show you why I picked this as my no. 1 WordPress form plugin.
But, if you have any questions regarding this, please feel free to ask me in the comment section.
Say me thanks by sharing this.