Earn Money with Brave Browser Affiliate Marketing ( 500$+ Per Month)
If you are not skilled enough to join any freelancing marketplace, but, still looking for ways to earn money online, you have come to the right place. Yes, you can earn money with Brave Browser just downloading and referring their app/software to others.
Brave Browser is one of the most popular internet browsers in the world. The popularity of the Brave browser is increasing day by day for its beautiful features. It helps you to browse the internet more safely and added many features like ad-blocker and so on. even, you can make money by just browsing the internet with their browser. Cool, hah?
How to Earn Money with Brave Browser?
Brave already paid more than 2.2 million dollars to its users. For earning money with the Brave browser, you will need to join their affiliate program. It's very easy to join their affiliate network. And it's totally free. Brave affiliate program lets you earn up to 7.50$ per download.
Moreover, You can earn cryptocurrency from it. Brave allows you to withdraw your money not only in just as usual payment methods but you can also get your payment to your favorite cryptocurrencies like Bitcoin and other cryptocurrencies. If you know about the cryptocurrency, you will agree that cryptocurrency is the future of our payment system. So, you can also keep your money to your crypto wallet as well as to your bank account and other well-known payment wallets.
However, I will tell you – how to join Brave affiliate network at the end of this post. Before that, let's know more about this.
How Brave Affiliate Program Works?
Well, there are some things to know before joining the Brave affiliate. These will help you to realize and earn the best from it. It works as simple as you think. Register with their affiliate network. After that, you will get a referral link. Share this referral link to your website, blog, social media, YouTube channel or anywhere you want to share. If a person downloads their free browser from the link you referred, you will earn a reward from Brave. N.B. Whoever downloads their browser from your referral link, they must install the browser to their device for 30 days. Otherwise, you will get nothing as a result.
Brave was paying $5 per download from the beginning. But, now it has changed the system. They are paying based on which country you are generating the downloads from. They have categorized the countries into 4 groups.
| Group 1 – $7.50 | Group 2 – $6.50 | Group 3 – $5.00 | Group 4 – $2.00 |
| --- | --- | --- | --- |
| (BAT equivalent) | (BAT equivalent) | (BAT equivalent) | |
For example, if you generate a download from group 1, you will get 7.50$ for each download. And if you generate a download from group 3, you will earn 5$ for each download. That's how the brave reward program works. Check the image below to know the country distribution in each group:
Even, you can earn Bat Tokens whenever someone browses your registered website with Brave browser. Look, you just register with Brave, they will take care of the others. It's totally the best thing that you don't need to do anything. Just register and leave alone. Who will not love this process?
When you register with brave affiliate, they will ask you to add a Uphold account with your account. Whenever you will earn bat rewards from your account they will transfer the money to your uphold account. Uphold is one of the best places to exchange your currencies. From Uphold, you can exchange your money to any dollar formate more even in cryptocurrencies like BTC, ETh, Bat and so on. You can withdraw your money from Uphold to your bank account or other crypto wallets.
However, Brave authority has announced that they will add 'Credit card' as a payment method for the affiliates.
How much can I earn from Brave Browser Affiliate Program?
Well, I've mentioned that you can earn 500$+ per month from Brave. But, It's not actually true. You can earn even more from brave. It depends on how much effort you are providing. For example, if you refer 10 downloads from group 1 in one month, you will get 75$ ( 7.5 x 10 = 75 ). And if you refer 70 downloads, you will get 525$. That's how it works. Actually, there is no limitation on how much can you earn from the brave affiliate program.
How to Join Brave Affiliate ( Full Guide )
So, here is how to join Brave affiliate. Follow the step by step Guide to join.
You can add multiple websites in one account.
Give your email and head-on " Create an account. after that, go to your mailbox and click on the link sent from Brave Creators and verify your email.
Enter your name, tick the button and click on " Sign up "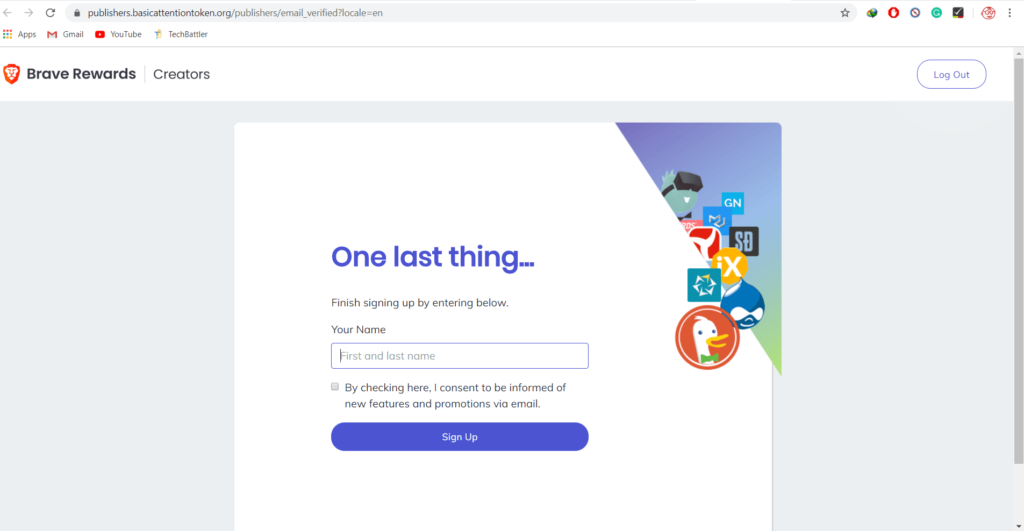 Set the Two-factor authentication for your security or skip that. You can set that later on.
Click on Add Channel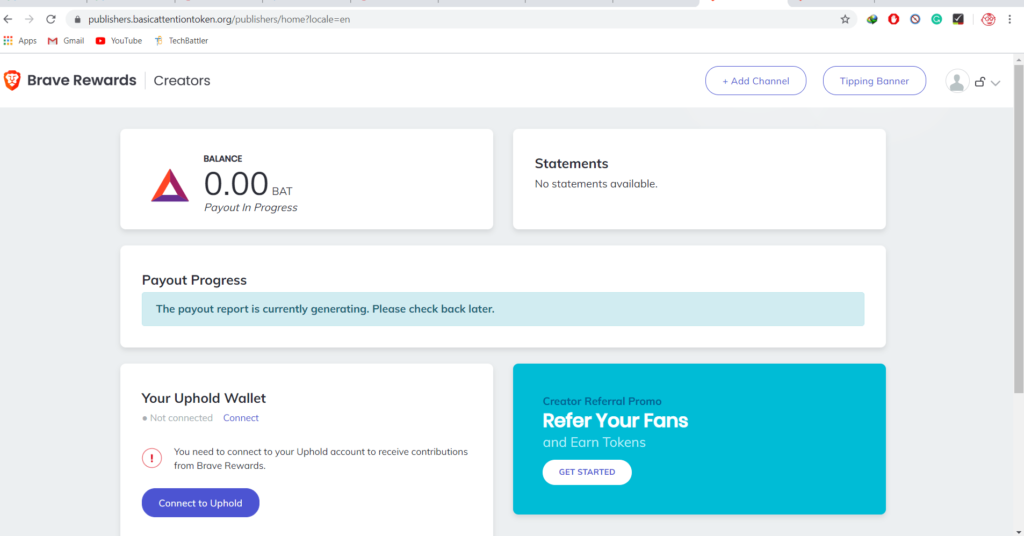 Choose the option you want. I picked 'Website' as I share my content with my website.
Enter your domain name
Then, you have to verify that you are the owner of that website. There are two methods to verify authority. If you are using WordPress then you can easily verify your ownership by installing their payment plugin to your site and paste the provided code. And if you don't use WordPress, then you have to go with the 'DNS Verification'
After you finish the verification, you will have to connect an Uphold account with your account. If you have an existing Uphold account then add it or create a Uphold account. It's free.
Now, you are all set up!
There are different options for Youtube channel and others. And the process is so easy. So, you can add them very easily.
Conclusion: Earn Money with Brave Browser
As "Brave Creators" is totally free to join and you don't need enough monitoring, it's one of the best affiliate programs to monetize your website, your YouTube channel, Twitter account and so on. Furthermore, you can more and more. There is no limitation. Think, you are getting paid by downloading a browser. Isn't that great?
Brave Browser is a great browser that is free to download. Download Brave Browser
Share the thoughts after reading this article. I will reply to them. If you further questions or inquiry, please feel free to write them in the comment section. Best of Luck!
However, please let me know if you have any further queries on this topic in the comment section. Thank You.