How to Get Massive Engagement with Popular Post Lists in WordPress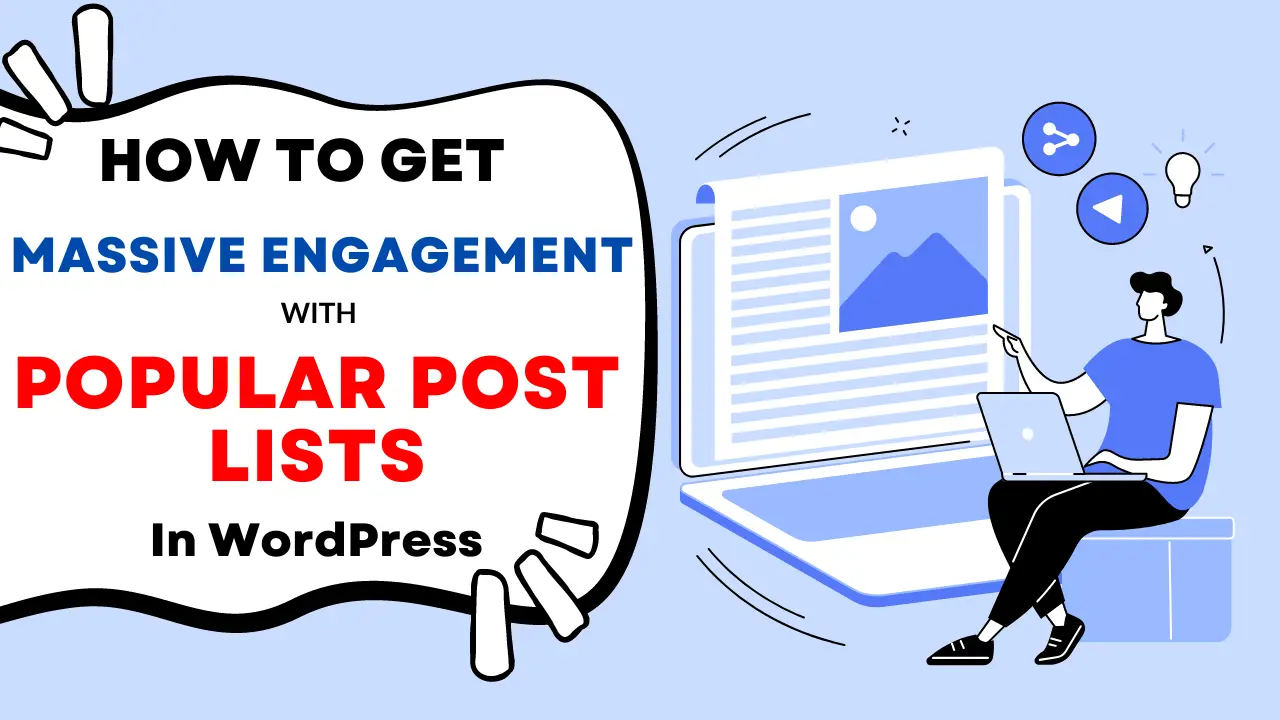 Getting engagements is a serious issue for almost all bloggers.
If you are not getting enough engagements and a higher bounce rate it's because you are not displaying your blog post nicely.
I repeat, "Nicely"!
Most of the bloggers are not careful about their blog interface.
You are writing quality content on your blog but your blog posts aren't reaching your desired readers.
There are several reasons for facing such an issue.
If your key articles aren't categorized or displayed in a structured way, your articles won't reach your targeted audience.
Today, I'll discuss how you can solve this problem. You can now display your most popular articles with a list.
How to Create Popular Post Lists in WordPress
In this article, I'll show you the easiest way to display your most popular WordPress posts/articles, products on your WordPress blog.
For this, you will need a WordPress plugin- MonsterInsights, the best Google Analytics plugin.
MonsterInsights is the best plugin that lets you control all your Google Analytics things directly from your WordPress dashboard.
Moreover, it gives you more advanced features and tools to track your custom events and everything.
As a TechBattler lover, you can get 50% OFF on any plans of MonsterInsights by using the below link.
• For setting the popular post/product list, you will need to install MonsterInsights on your WordPress site. If you haven't installed it already, get it from here with a 50% Discount.
• Now go to your WordPress dashboard. Install and activate MonsterInsights.
• I've written an in-depth MonsterInsights review and set up guide. Check this to setup MonsterInsights with Google Analytics and Everything:
• After setting all of the necessary things, navigate to Insights >> Popular Posts >> Inline Popular Posts >> Sort By
• You will get 3 options to sort your popular posts here. These are:
• Comments– Displays randomly your most commented posts from the last 30 days.
• SharedCount– Displays posts that have the most social shares.
• Curated– Displays random posts in the widgets.
• Choose your desired option and select the settings.
• It will automatically display your popular posts/products on your selected widget area.
That's all.
Also, you can directly display your popular posts from Google Analytics.
For this, go to Insights >> Popular Posts >> Inline Popular Posts >> Automated + Curated.
Click on Add Top 5 Posts from the Google Analytics toggle button.
After this, a configuration toggle will appear. Set up this as you wish to configure your popular posts.
Displaying your popular posts on your blog will reduce your bounce rate and will boost your engagements.
MonsterInsights is an awesome plugin for this. It will also do all your Google Analytics things.