4 Best Hosting for Ecommerce Website
If you are planning to build an e-commerce website, then hosting is one of the most vital facts that need your essential awareness. No matter what, good hosting can power your store 2x faster than you think.
Before choosing the best hosting for ecommerce website, you need to give attention to several factors. There are thousands of web hosting providers out there. But not all of them are suitable for making your eCommerce website. There are several numbers of web hosting that provide awesome ecommerce features and management functionality.
We investigated and found some best of best-hosting providers for an online store. Before choosing the right one for you, let's discuss some important things that you should maintain while purchasing the hosting.
What makes web hosting perfect for an ecommerce website? Yes, it's the first question that should come to your mind before making a decision. Think what will be the situation if your ecommerce site faces downtime for several times a day? Undoubtedly, it will cause you a lot more harm both economically and user experience.
Research says, for every minute of downtime, Amazon losses at least $2 million. Well, maybe, you are not going to build a vast store that amazon does. But, it will also cause you a loss. No matter what your store is big or less, you would want to stay away from these problems.
Signs of The Best Hosting for Ecommerce Website
Well, you must make the right choice and check these key features and factors while purchasing the host. Let's point them out with these questions:
What is The Server Up-time Rate of The Hosting?
The server uptime rate is a bigger problem than you think. Downtime is a crucial moment that can cause you to lose revenue. So, you must select the hosting that provides an excellent server uptime rate.
Yes, security is a significant factor for an ecommerce website. Not a single buyer will try to purchase by putting their card/bank details if they don't find your store safe. So, what's making your website looks secure? It's the SSL (Secure Socket Layer) certificate. SSL certificate enables your website to encrypt your customer's sensitive data. So, you have to choose the hosting that provides the best SSL service.
How Well is The Hosting Firewall Solution?
Almost every hosting has its firewall solution. Whenever a bot or user tries to attack your website as a DDoS attack, your hosting firewall functionality will protect your site. And it will let your customer browse your website more safely. Don't ever forget to note down how good a hosting's firewall solution is.
How Good The Backup Functionality of The Hosting?
Backup is a lifesaver. No one wants to lose their content. What if your accidentality deleted some of your content or your website gets hacked by a hacker? Backup is the one that can save you at that time. Every hosting provides the backup option, but not all of them are reasonable in price, and even some of them don't provide a daily backup. The hosting you are going to choose needs to have the best backup management system at a reasonable price.
Does The Hosting Provider Provide Good Customer Support?
Understandably, you will need customer support from your hosting provider. Not all web hosting companies provide the best customer support. You would want to get support whenever you are in need. Some late replies can cause you damage. The damage is done! Hah! So, we need to check how excellent the customer support service that is provided by an ecommerce hosting provider.
Best Hosting for Ecommerce Website – The Fact: What is The Price? Is it Reasonable?
We all know, building an online store sometimes takes a good amount of money. So, it should be your concern that if the price that is asked by the provider is reasonable or not. Who would spend the money on a bad hosting service?
After doing an in-depth investigation, we found and selected these 4 best web hosting for your ecommerce website. We compared all the factors and features before choosing them. These are the best and reasonable web hosting for your woo-commerce/ecommerce website.
| Hosting Provider | Starting Rate |
| --- | --- |
| SiteGround | $2.99/m (80% off from regular $14.99/m) |
| A2 Hosting | $2.99/m |
| BlueHost | $2.95/m |
| Hostgator | $2.75/m |
Let's now take a more in-depth look at each of them.
SiteGround offers a specific woo-commerce plan. Have a look at their daily backup system in every plan. You can't get this service in other hosting services for free. SiteGround also offers free email and CDN for every plan that gets them extra credit to hold the first position. If you buy your ecommerce hosting from other hosting providers, then you have to pay an additional amount for these services. But, SiteGround is the king here. All the features that are provided by SIteGround will boost your ecommerce website in every way. And also, don't miss the chance as they are offering hosting from as low as $0.33/m for the coronavirus outbreak.
Our Recommendation: Needless to say that, SiteGround is a great candidate to claim first place for being the best web hosting provider. You won't regret it if you buy hosting from SiteGround. Yes, we are talking about your online business. SiteGround can be a great one for you as it has all the features and assets for an eCommerce website. And of course, SiteGround claims the 1st position in the race of best hosting for ecommerce website.
SiteGround's ecommerce hosting plans
As you see, A2 hosting has also a separate e-commerce web hosting plan. the Uptime rate is at an excellent standard in A2 Hosting, which is 99.99%. A2 hosting provides a lot of awesome features like you will get a free SSL certificate with every plan you purchase. The dual firewall system is so good. Understandably, the backup management system of A2 hosting is something special that you might not want to miss. Some of their plans provide automatic backup daily. You can quickly build your ecommerce website with their website builder features or quick installations of any software like WordPress. Moreover, you will love their customer service. They are quite fast, and you will get their expert response within a minute.
Our Recommendation: Of course, A2 Hosting wins our recommendation. One of the main things you must notice that A2 Hosting provides a highly reasonable price (Starts from $2.99/m) with a lot of great features and security options. A2 Hosting offers all the features and deals that you need to build your e-commerce website. If you want to give your online store an excellent hosting environment, then you can surely go for A2 hosting. And it deserves it. A2 Hosting got 2nd place in the race of our topic on the best hosting for ecommerce websites.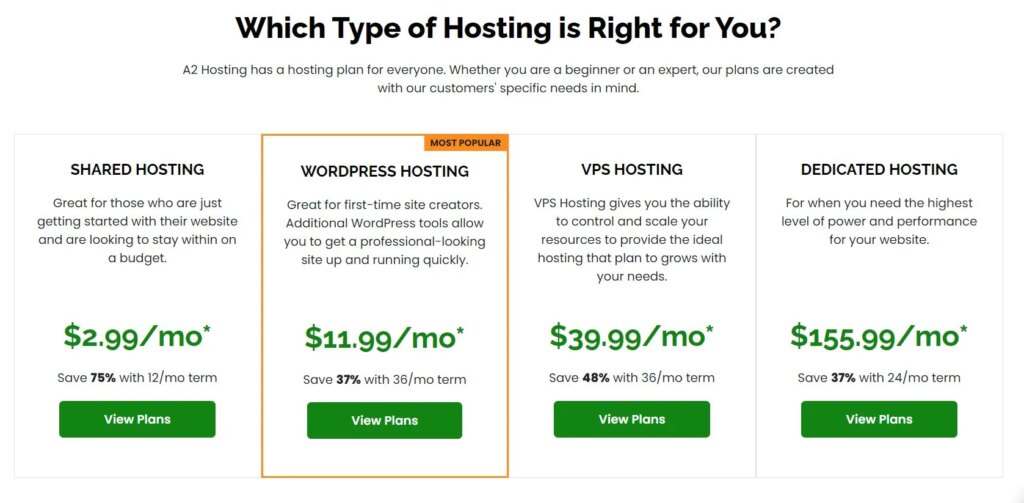 A2 Hosting's hosting plans
Bluehost has almost all the features like A2 Hosting. But, surprisingly, It has a great gift for its customer. Bluehost provides a free domain to its customer. Moreover, their basic plan starts from $2.95/m, which is too low. Bluehost can be the right choice for your ecommerce site if you have a small budget for hosting. Bluehost offers the lowest rate in its basic plan. Customer service is good as it provides 24/7 support. It's a rare situation that their customer service becomes slow in the peak hours though I added this as a con in the above.
Our Recommendation: Bluehost is one of the most leading web hosting companies in the world. They provide every essential and great feature at a low price. Also, Bluehost has all the features that you will need to build your online store. And yes, Bluehost wins ours "Yes" in every possible way and holds the position for the best hosting for ecommerce website.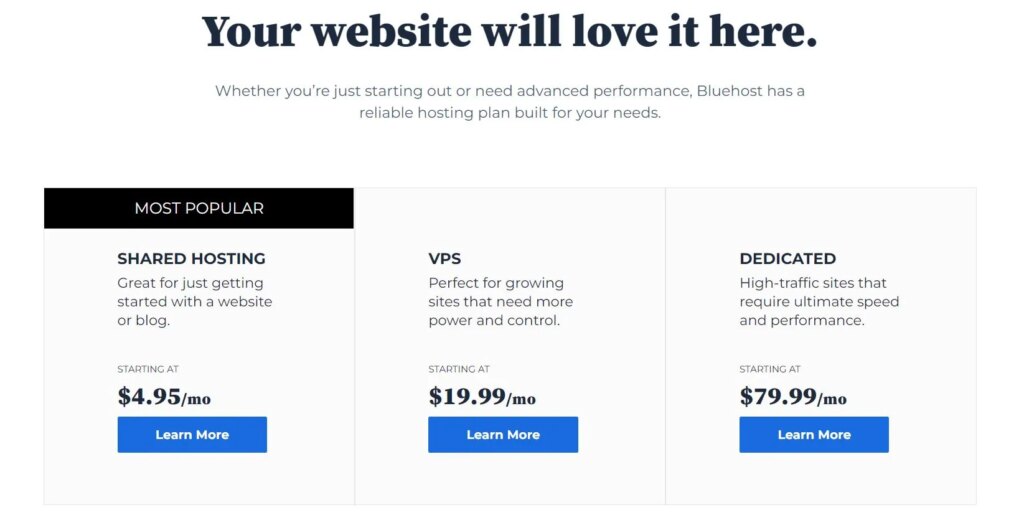 Hostgator is one of the strongest competitors in the hosting industry. They provide almost all the necessary features and assets that you will need for creating your ecommerce site. Eventually, they don't take a longer time to provide customer support. But, in a few stages, you may suffer from it.
Our Recommendation: Except for the rare customer support delay problem, Hostgator is a decent hosting provider for hosting your e-commerce site. And they provide a highly reasonable rate. So, if you are going to purchase your hosting plan from Hostgator, it won't be a mistake. Read our detailed review on Hostgator: Hostgator Web Hosting: Is It Worth to Purchase in 2023? (Review)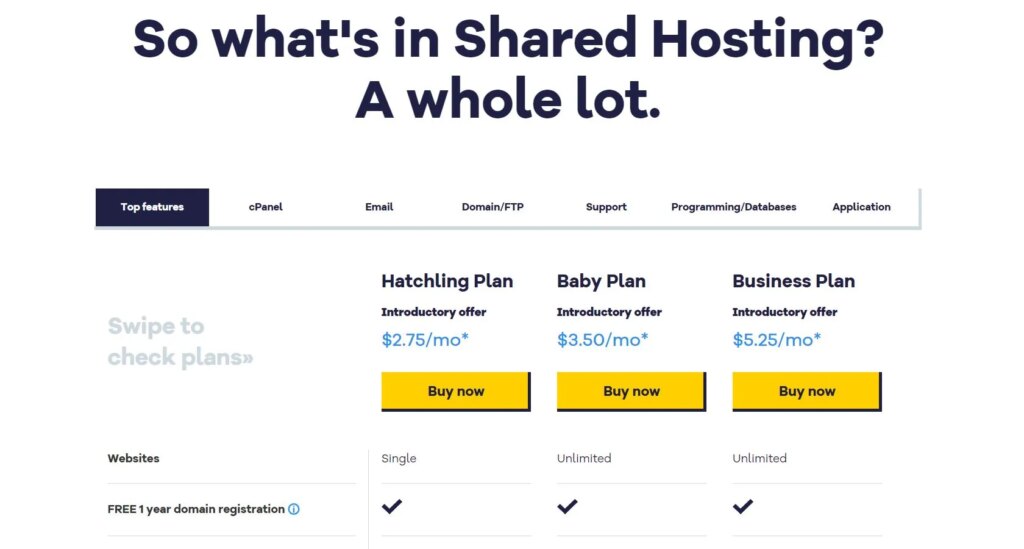 Hostgator's shared hosting plans
Well, we have already discussed these 4 best hosting for ecommerce websites above. We have investigated depending on all the factors for an ecommerce site and selected A2 Hosting, SiteGround, Bluehost, and Hostgator. If you want to purchase a decent hosting plan, you can go for any of them. SiteGround provides specific woocommerce hosting plan that makes them special. Another awesome feature they provide is the daily backup option in every plan. They are unique in this way. Understandably, SiteGround offers everything that you will need to build your ecommerce website. A2 Hosting is the best for its speedy server with a lot of security options. BlueHost is another good choice. Their plans are quite reasonable. Hostgator can be a good choice if you are in a lower budget and want to give your eCommerce website a decent hosting environment.
However, please let me know if you have any further queries on this topic in the comment section. Thank You.