How to Connect WordPress Website Leads And Salesforce (CRM)
If you are running your online business, you know how important the leads you are getting. If you browse any marketing forum or community, you see everyone is thirsty to know how can they increase their leads.
Yeah, trust me, it's the lead that became everyone's priority. And you must put enough effort into this.
Today, I'll show you how you can connect your WordPress website leads and salesforce (CRM).
Well, Salesforce is the leading CRMs (Customer Relationship Management) on the market that helps you to know your customer more, identify customers, track, and segment user data.
Salesforce is a powerful CRM tool and platform that makes your lead generation task ] simple and fast.
How to Connect WordPress Website leads and Salesforce
Today, we will use WPForms (The best WordPress form plugin) to connect your WP leads to Salesforce.
WPForms is one of the best WordPress form plugins that lets you create any kind of professional looking form. There are many reasons for loving WPForms. By using it, you will get all the form-building features and addons that will boost your lead generating strategy. Also, its easy drag and drop form builder gave WordPress form building a new level.
So, how can WPForms and Salesforce work together?
WPForms has its unique salesforce addon that lets you directly send your WPForms form entries to Salesforce.
This addon will save you time and money. You don't need to pay extra money for Zapier to connect your WordPress leads to Salesforce.
This addon will automatically send all your form entries to Salesforce. You don't need to manually copy the leads. It will automatically create objects on Salesforce.
For using this addon, you will need to have the WPForms Elite plan.
Get WPForms Elite Plan with 50% Discount from here.
First of all, you will need to install WPForms on your WordPress site.
After that, navigate to Dashboard> WPForms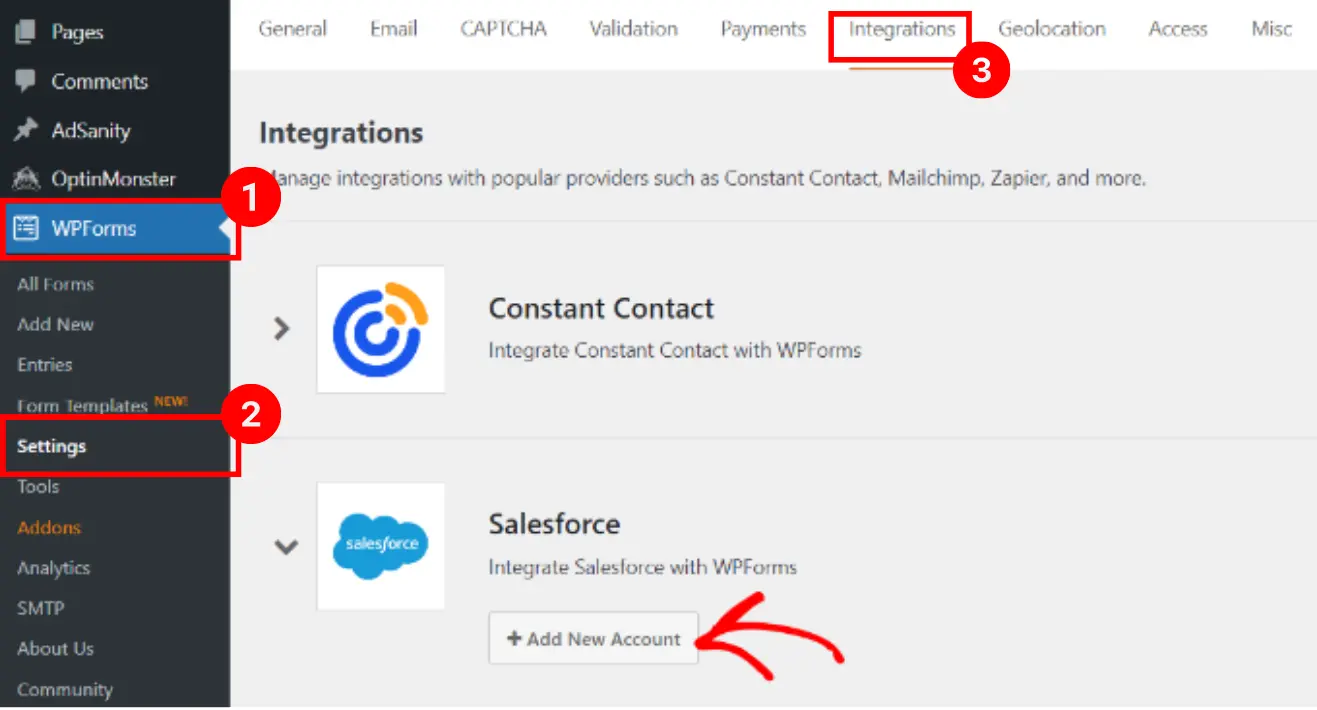 For creating a salesforce object, you will need to do a little thing in the form setting.
For that, browse the salesforce addon from the form setting and connect your SalesForce. Now choose your preferred object. That's all.

It'll automatically send form entries to your Salesforce account.
Using WPForms with Salesforce is a wise technique that will increase your leads. As I mentioned above, it will save you money and time. It's like a win-win situation for both.